Our Founder Kedarji speaks about that Highest power, the energy substratum of everything, from which everything else derives its power. If you'd like to receive notices of more blogs like this and other events related to our curriculum for permanent spiritual transformation, shoot us an email.
Kedarji is also known as a Sadguru, an ascetic who has been initiated into a long, unbroken lineage of ascetics. An ascetic is a being who is initiated into a spiritual lineage of enlightened masters by his/her Master and takes a vow, a sworn oath to make the journey to discovering and imbibing the power of Divine Conscious Energy (the Spiritual Power) his only priority in life. This begins many years of training and Self-discovery that includes daily worship of the Highest, the Supreme, embodied in a disciplined daily spiritual practice.
After completing this journey, the ascetic is authorized by his/her spiritual Guru to lead others on the same journey to the ultimate experience of this highest power and how to harness it in every aspect of one's existence.
Kedarji has the unique distinction of marrying his many years as a practitioner in the holistic health and healing field with his trials, tests and realization as an ascetic in a powerful, time-honored spiritual tradition. This has culminated in the integration of his Ecology of Well-Being embodied in our 4 Pillars of Total Well-Being – The Spiritual Power, Improved Mental State, Emotional Resilience, Vibrant Health.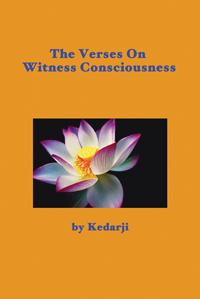 The Verses On Witness Consciousness by Kedarji.
Witness Consciousness is the means to understand the nature of your mind and that Witness to your mind that exists beyond your mind and beyond your senses. Witness Consciousness Centering is a proprietary meditation method for making the restless mind quiet in under 3 minutes, while giving the full experience of the power of the present moment, in every moment of your life. The Palace of Peace is their, beyond your mind and beyond your senses. The ocean of Joy and the inner strength necessary to take on life's challenges is there, beyond your mind and beyond your senses.
This phenomenal little book shows you how to access that power!
$8.95 Paperback edition. $4.95 eBook download (PDF). 
INTRODUCTION TO OUR ECOLOGY OF WELL-BEING
Learn Kedarji's 4 Pillars of Total Well-BeingSeptember 10, 17, 24, and October 1 of 2020
In this 4-part course, you are taught the fundamentals of a powerful, holistic lifestyle for increasing well-being in all areas of your life, while attaining and maintaining vibrant health. The course includes powerful meditation methods for making the restless mind quiet, along with a time-honored approach to manifesting the inner strength necessary to take on life's challenges with a smile on your face.
Kedarji's 4 Pillars of Total Well-Being are the foundation of this course. The are:
The Spiritual Power
Improved Mental State
Emotional Resilience
Vibrant Health