Can Fear Be Eliminated? Learn How To Conquer Fear Now.
Free webinar replay. Watch Now.
SEE COURSE INFORMATION ON THIS PAGE
This webinar replay has ended.
How To Be Fearless, Happy and Resilient In The Age of Noise and Distractions.
Can Fear Be Eliminated? Learn How To Conquer Fear Now.
Home study online course and live presentation on Wednesday and Thursday – August 5-6, 2020 @7:15pm, webcast live for those who don't live in the region. ACT NOW FOR 10% DISCOUNT!
This course combines the steady wisdom of the great beings of Kedarji's spiritual lineage with the expertise of his holistic healing and well-being lineage of master practitioners to address wisdom, well-being and vibrant health, free of Fear.
If we contemplate ourselves and this fantasmagorical existence here that we call Earth or world, within the love and peace of the heart we can see that we are not demons, sinners, small or ordinary. We can see that we are not men, women or gods either. We are simply perfection in the expression of That – the highest power – what we refer to as The Spiritual Power – the energy substratum of everything and everyone.
The permanent realization of this makes one fearless. Our promise to you with this course offering is that you will be taught proved, time-honored methods for this recognition and ongoing experience in your daily, mundane life that, if applied in following the instruction given, will make you fearless. We know this will happen for you. How? Because it's happened for so many others who have followed the instruction and used the methods you will learn in this course.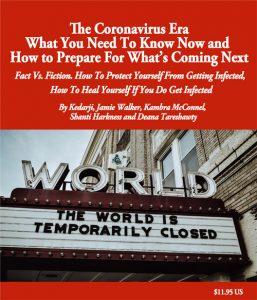 The Coronavirus Era – What You Need To Know Now and How to Prepare For What's Coming Next
Fact Vs. Fiction. How To Protect Yourself From Getting Infected and How To Heal Yourself
If You Do Get Infected.
By Kedarji, Jamie Walker, Kambra McConnel, Deana Tareshawty and Shanti Harkness
240 + Pages. eBook PDF Download – MORE INFO AND PURCHASE